Bringing a 15th-century Breton cultural building back to life
Topic:
12: Art, culture and local history
Work Types:
Construction / Cultural heritage / Restoration, renovation
Number of places still available:
0
Free places last update:
27 Jul 2021
International age:
18 - 99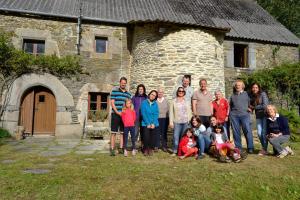 Description: L'Association culturelle de Boquen organise des rencontres dans des lieux sur des thèmes de société, des questions concrètes et des préoccupations qui nous interpellent. Elle alterne avec des rencontres sur des sujets qui permettent à chacun d'exprimer une quête spirituelle de la manière la plus ouverte. Laïque et indépendante , dans sa démarche, l'association s'enrichit des pensées philosophiques et des grandes traditions spirituelles.
Type of Work: The volunteers will participate in the renovation of the 15th-century building in Boquen, located beside the 12th-century abbey, together with local volunteers. The tasks will be diverse and varied, such as masonry work to repair the old bread oven, and painting the interior of the building. But also gardening to prepare the garden to receive the Altertour festival, so that they will be able to camp on the site. You will need to be physically prepared because you will have to carry things.
Study Theme: The association wishes to highlight all the aspects that represent them: their historical foundation related to the Abbey of Boquen some forty years ago; their great diversity of origins, ages, and sensitivities; their house in Poulancre in central Brittany, which is now their place of meetings and gatherings. The myths and rich history of Brittany will be part of the discussions and your visits during your free time.
Accommodation: Volunteers will sleep in a dormitory, a duvet and a pillow are required for your own comfort. The premises are equipped with sanitary facilities.
Language: English will be the language on site, however local volunteers will speak French.
Requirements: Work gloves and clothing that can get dirty.
Approximate Location: You will be close to Saint-Brieuc, the most populous city in the region, with a population of almost 45,000 (called the Briochins and Briochines), located in western France.
Organization Description: La branche française du mouvement, créée en 1936 et actuellement à Lille.