S.A.F.E.R. Social Action For Environmental Refugees
Topic:
11: Climate and sustainable lifestyle
Free places for Males:
10
Free places for Females:
10
Free places last update:
08 Jun 2021
International age:
18 - 99
Required Language:
English
Motivation letter:
This camp requires an additional motivation letter to explain in more detail why you would like to attend. Further information or a form to complete is available here:
https://forms.gle/J8P3jysfAMTjD528A
.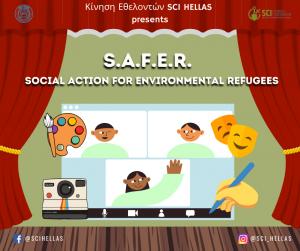 Description: Due to all the changes connected to COVID-19 over the past year, all of us have faced new challenges. However, the situation has not been entirely negative! The lockdowns created an opportunity to host online projects and we experienced this kind of initiative as a great way of connecting with people all over the world. S.A.F.E.R aims to promote our ideals about social and environmental awareness through practising art techniques. Join us in this workshop to enjoy and learn in a S.A.F.E.R way!
Type of Work: SAFER is an opportunity to focus on current social and climate justice issues through creative expression and non formal education methods. The purpose is to create awareness of the connections between global justice, forced migration and climate justice. The participants can share their personal approaches about forced migration, environmental activism, social injustice and community participation. The workshop will take place over a week dedicated to specific art techniques. Participants will have a choice of those forms of expression they feel most interested in or have experience with. They will work both in groups and individually to organize a performance or presentation of their group work on the final day of the workshop. This project is based on non formal education methods.
Study Theme: June is the month to celebrate World Environment Day (05/06) and World Refugee Day (20/06) so this project aims to share and connect both issues through environmental refugees. The art techniques we wish to practice are Audiovisual arts (photography/video making), Theater (improvisation, body theater), Writing (poetry, storytelling) and Painting. The non formal education methods will be focused on the issues explained above and participants will work in groups in order to produce "The S.A.F.E.R. Art Exhibition" performing their creative skills as the main outcome for this workshop.
Accommodation: Your own home! S.A.F.E.R. also means that the workcamp cares about your health and we are looking for participants to stay safe.
Language: English will be the language of the workshop; conversational skills are required.
Requirements: Internet connection, and a camera and microphone. Applicants need to apply through the SCI workcamps database as well as filling in the form below. You must attend 100% of the activities and complete the homework and assignments in order to produce The Final S.A.F.E.R. Creation.
Approximate Location: Online (Zoom platform). The advantages of this new scenario is that workshops are more accessible to everyone without need for visa and travel costs. Respecting physical distance but promoting social proximity without borders. In addition we are all keeping our carbon footprint low which is an important asset for climate justice. We are also giving the opportunity to be more inclusive with participants who are directly affected by the climate crisis.
Notes: No participation fee for this camp. The deadline for application is 30th May 2021.