Online Workcamp: "Let's make sound in the silence" – Ravensbrück goes Digital
Topic:
1: Antiracism, antifascism, remembrance
Work Types:
Art / Study, discussion, research
Number of places still available:
13
Free places last update:
Nov 02, 2021
International age:
18 - 99
Required Language:
English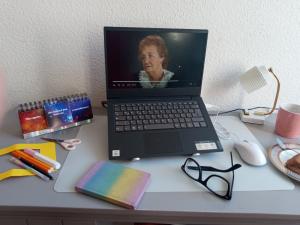 Description: The former women concentration camp of Ravensbrueck was established in 1939 near the small city of Fuerstenberg/Havel. Until the liberation in April 1945, more than 120.000 women and children, 20.000 men, and 1.000 young minor women of the so called "Uckermark Youth Protective Custody Camp" were incarcerated there. The prisoners came from more than 30 nations. They had to do forced labor in different sectors, e.g. for SS-factories or the company of Siemens. Their daily life was characterized by hunger, mistreatments, and bad hygienic conditions. Tens of thousands of prisoners were killed. Today, Ravensbrueck Memorial Museum keeps traces and records, enhances remembrance and research, and creates a place of active learning and get-togethers.
Type of Work: You will learn together about the history of the women's concentration camp Ravensbrück, analyze/discuss Video-Interviews with Ravensbrück-survivors and create individual art to honour these survivors and their stories. As volunteers you will pre-process interviews of the Memorials media collection to make them accessible. Share your thoughts, feelings, your politics and your activism. You are all so far away and yet so close! Please inform us which language skills you have!
Study Theme: Prisoners and female SS-guards, commemoration and remembrance at Ravensbrueck Memorial.
Accommodation: Your own home :)
Language: English
Notes: Every year international workcamps are organized in cooperation with the Memorial site. Because of the worldwide situation, the 2020-Ravensbrück-Workcamp will be digital.
Further information
Organization Description: This workcamp is organized by the German branch of Service Civil International (SCI). SCI Germany was founded in 1946 and is approved as a non-profit organisation. We are one of the oldest peace and volunteer organisations. SCI Germany aims to promote peace, non-violence, international solidarity, social justice, sustainable development and cross-cultural exchange through international voluntary work. We cooperate with a network of branches and partners in more than 90 countries. Every year, SCI Germany organizes about 50 international workcamps in Germany.