CHAPTER: Challenging Propaganda Through Remembrance. "Remembrance week in Austria"
Topic:
1: Antiracism, antifascism, remembrance
Work Types:
Peace / Social / Study, discussion, research
Number of places still available:
0
Free places last update:
Jul 15, 2021
International age:
16 - 99
Required Language:
English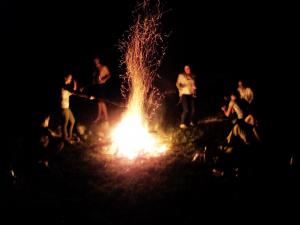 Description: The Remembrance Week in Austria is part of a wider list of activities within the frame of the European Project "Chapter: Chellenging Propaganda Through Remembrance". The project gathers 25 representatives of organisations from 9 countries - Austria, France, Germany, Greece, Hungary, Italy, Poland, Catalunya and Bulgaria. Since 2014 Europe is facing the worst humanitarian crisis of refugees since World War II (WWII), the majority of them fleeing from Syria and Libya, while the economic crisis has been causing cuts to social inclusion, education and healthcare programmes. An in-depth analysis shows that current propaganda roots in methodologies and tools developed under totalitarian regimes.
Type of Work: Participants, supported and guided by facilitators and Remembrance Messengers, will implement different reasearches and activities and aimed at going in depth into the following key words/topics of Propaganda and Nationalism in Europe in the past until today. A Set of Infographics will be created on the basis of the researches participants will realize during the activity, focused on 10 specific topics: Fear; Propaganda; Gender; Freedom of speech; Nationalism; History; Normalization; Social Frustration; Hate crimes.
The project aims to cast a light on propaganda before and during WWII, focusing on its role to enforce the concept of "enemy" - from national and ethnic groups to political opponents and social groups.
Study Theme: The study part will be all focused on propaganda during the WWI and WWII, connecting the features characterizing the public discourse during the 2 wars to the ones present in the current political speaches in each country involved in the project. This will be done by comparing the results of researches implemented by each participant before getting to the Remembrance Week and by a series of other activities like: visits to Resistance museums, archives, significant historical places, meetings with experts, discussions among participants.
Accommodation: There will be a simple shared accommodation for the group. There are two sleeping rooms with mattresses - you need to bring your sleeping bag and a pillow. There are showers with warm water and toilets in our accommodation. There will be enough drinking water from the tap (as almost everywhere in Austria). The food will be prepared by YOU. We will make teams of 2 people for each day who will cook for the others.
Requirements: Please bring your Laptop if possible and swimming clothes
Approximate Location: The camp will be organized in the Waldorf School facilities near Vienna where each year we use to organize summer workcamps.
Notes: The project covers the costs for: travel (reimbursement up to 100 euros upon delivery of the boarding pass), food, accommodation, local transportation and health Insurance. Unfortunately, costs for the Covid-19 test cannot be reimbursed.
Here in the call for more details: https://www.sciaustria.org/2021/05/26/chapter-challenging-propaganda-through-remembrance/
Organization Description: SCI Austria is the Austrian branch of Service Civil International, founded in 1947 and based in Vienna. We are mainly volunteers who have been on international workcamps ourselves and who want to organize meaningful and critical projects in our country as well.

---
Camp Photographs