Topic:
7: Children and youth
Work Types:
Work with children / Social
Free places for Females:
2
Free places last update:
09 Jul 2021
International age:
18 - 99
Extra fee to be paid in the hosting country:
55.00 Euro
Breakdown:
Accommodation and food: 55.00 Euro
Transportation: 0.00 Euro
Activities: 0.00 Euro
Hosting organisation support: 0 Euro
Purpose of extra costs:
The meals are offered by Fundação O Século but the acommodation will be supported by Para Onde? so we ask a small fee for the volunteers to contribute for the acommodation and daily cleaning services of the rooms. Para Onde? is a non-profit organization wich has no grants or investment of any kind. We have a volunteer team and we live through donations that help us run our local activities
Required Language:
English
Motivation letter:
This camp requires an additional motivation letter to explain in more detail why you would like to attend.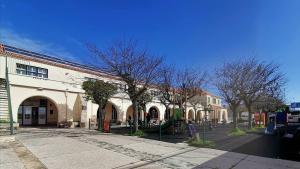 Description: Fundação O Século is a social institution funded in 1998 with the goal to promote the inclusion of children in need and their families. Today, the organization helps more than 800 people through several facilities such as fostercare, meals distribution, kindergarden, family support and more. In order to give the children a different summer in such weird times like these we are living in, Para Onde? and Fundação O Século are promoting this workcamp, so kids will have the opportunity to contact with international volunteers and travel the world through them. From the volunteers will be expected them to be kind, fun, dinamic and promote the best holidays to these children.
Type of Work: The volunters will be helping the local monitors in the organization of several activities for the children such as sports, beach games, arts and crafts, but lso support in the logistics during the time they spend at the beach. Volunteers canl also help in the preparation of meals and cleaning areas. Bring your own ideas and your joy to this workcamp!
Study Theme: Social inclusion, sharing experiences, socio-cultural diversity, development of soft skills
Accommodation: Volunteers will be hosted by the institution in their own facilities. They will stay divided in 2 rooms shared by 4 volunteers each. Each room has 4 single beds and one bathroom. In addition to the accommodation, all main meals, including breakfast, lunch, and dinner, will be provided in the cafeteria of the institution.
Language: Portuguese
Requirements: You'll have direct contact with children in vulnerable situation so we kindly ask the volunteers to be open-minded, dinamic and creative. Due to covid19 situation we ask the volunteers to be responsible and comply with the measures imposed by the Portuguese government.
Approximate Location: São Pedro do Estoril, Cascais, Lisbon
Notes: You should come prepared with comfortable and practical clothes. Make sure you have enough items for all days, as you will not be able to wash your clothes during this workcamp. Summer in Portugal is usually quite hot, so make sure you bring light and fresh clothes for these days. Don't forget to include your swimsuit or bikini, flip-flops, and sunscreen in your suitcase, as you never know when a dip in the sea might come up! It is very important to always have comfortable shoes with you, as these will be days of many activities and we do not want your feet to suffer! Finally, bring your own masks, an essential nowadays, as well as nice humor and enthusiasm! If you have all of this, your suitcase is ready!
Organization Description: Para Onde is a Lisbon-based organization that is mainly focused on promoting social inclusion through volunteering. It was born in 2014 as an informative website and, at the end of 2016, it became an active NGO. Para Onde will allow everyone to have the experience to volunteer abroad despite age, budget and professional background/experience. Suitable training will be guaranteed to all those departing on an experience with SCI International.