Hands on in Palpung Europe
Topic:
13: Community life
Work Types:
Restoration, renovation
Free places for Females:
0
Free places last update:
Aug 13, 2021
International age:
18 - 50
Required Language:
English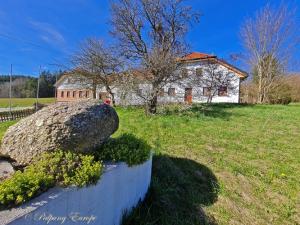 Description: We are currently building our Buddhist retreat institute, our animal sanctuary and farming and are offering you the opportunity to become part of our endeavors. Since we are totally non-profit, you will gain the experience of communal work. We are creating a sustainable place for people to learn awareness and meditation, giving space to farming animals in a to be set up sanctuary and grow veggies in permaculture. Therefore, you should have a clear inclination towards at least some kind of attitude of giving rather than taking only. We are situated in the picturesque Waldviertel in Northern Austria. If you are a craftsperson, even better. We have all kinds of smaller projects that need some TLC. We are vegetarians and rather pet animals than eat them!
Type of Work: There are different types of work you might feel compelled to: Our retreat institute is a construction site, in summer we will be laying floors. So if you are a crafts' person, you are welcome! Our meditational garden desperately needs some TLC, we will build more space for animals to be saved from cruel mass situations – our next project will be a chicken stable with a protected enclosure for the animals to roam around freely. Basically, you may be hands on in smaller projects. It's totally up to you!
Study Theme: What you will definitely gain is a sense of community, changing our narrow minded perception from wanting more for ourselves only into channeling it towards compassion for all living creatures, compassion in action, mindfulness and awareness in daily lives for a much more happy and content live and a better planet.
Accommodation: Accommodation will be in tents - if you have your own tent, you are most welcome to bring it along, else we have some tents here. Please bring your own sleeping bag + mattress. Shower and toilet of course are available on site.
Requirements: Sense of community, a positive composure, an indication to give instead of only taking, being part of a project serving the broader public, all sentient beings, being of service to all living creatures and creating a sustainable future for the next generation
Approximate Location: Langschlag, in Northern Austria, Germany and Czech Republic are not all too far away
Notes: We are in the middle of wonderful nature, with only farmers as neighbors. Nature is plentiful and you will be able to refresh your soul and reset your being. There is a swimming pond in walking distance from us, hiking tracks surround us, else you are to enjoy the fresh country air and train in mindfulness and awareness. Some of our feral cats do also like some belly rubs, but most of them are really feral and don't want to be bothered. Linz is 1 hour away, Vienna is 2 hours away, the costs for these excursions are not included in the workcamp and will depend on the initiative of the volunteers. It is up to the group what to do on weekends.
Organization Description: SCI Austria is the Austrian branch of Service Civil International, founded in 1947 and based in Vienna. We are mainly volunteers who have been on international workcamps ourselves and who want to organize meaningful and critical projects in our country as well.

---
Camp Photographs