Arts, culture, solidarity! Join the Climate Camp 2021 (near Erkelenz)
Topic:
11: Climate and sustainable lifestyle
Work Types:
Environment / Festival / Manual
Number of places still available:
12
Free places last update:
Jul 20, 2021
International age:
18 - 26
Required Language:
English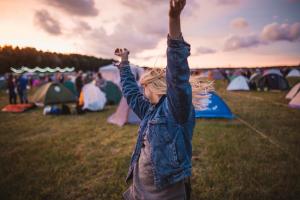 Description: Turn against climate destruction, forced relocation, cultural loss and social erosion with solidarity, self-organisation, creativity and sustainable living! You don't want to leave the people in the villages threatened by open-cast coal mining alone and celebrate a culture of resistance and solidarity? Then come to the Rheinische Landpartie in August! The Kultur-ohne-Kohle festival (Kuloko) and climate camp will take place at the Garzweiler 2 open-cast mine in NRW. With music, theatre, flea markets, exhibitions, workshops and much more, the participating organisations want to bring a culture to the threatened villages that is colorful and inclusive for all and resolutely opposes the destruction of people's livelihoods wor
Type of Work: With your commitment you support the entire infrastructure of Kuloko. Possible areas of work include
Setting up and dismantling the stages, stage design
Setting up and dismantling the camp infrastructure
Decorating the venues and camps
Staffing info points
Strengthening the structures for awareness, security and corona protection
Shifts in bar and kiosk
Supporting the kitchens Together with the workcamp group and the Kuloko organising team, you will discuss which areas of work make the most sense and in which you would like to participate.
Study Theme: - Participation in the diverse cultural and educational programme around climate, energy, capitalism, justice, local resistance and much more.
You are welcome to bring your own relevant topics and formats or contributions to the educational, art and cultural programme!
Accommodation: In tents on the festival grounds. Please bring your own tent and camping equipment (sleeping mat, sleeping bag). Depending on the current pandemic regulations, we can arrange in advance for volunteers to share a tent if you don't have one. The camp will be held in the open air for the entire duration.
The sanitary infrastructure on the campsite is self-organised and self-built (separating toilets, washbasins, showers). All volunteers are responsible for the communal maintenance or, if necessary, the construction of this infrastructure.
Language: The common workcamp language is English. All volunteers should have a good command of this.
Requirements: Interest in climate protection and climate activism; high willingness to self-organise; acceptance of simple living conditions; manual skills are helpful. Bringing a bike can be useful, but is not a prerequisite. As the workcamp takes place outdoors, it is essential to bring a sleeping mat, a sleeping bag, sun and rain protection and a drinking bottle.
Approximate Location: Fields, meadows and woodland around the villages at the Garzweiler 2 open-cast mine near Erkelenz in the Rhineland, NRW.
Organization Description: This workcamp is organized by the German branch of Service Civil International (SCI). SCI Germany was founded in 1946 and is approved as a non-profit organisation. We are one of the oldest peace and volunteer organisations. SCI Germany aims to promote peace, non-violence, international solidarity, social justice, sustainable development and cross-cultural exchange through international voluntary work. We cooperate with a network of branches and partners in more than 90 countries. Every year, SCI Germany organizes about 50 international workcamps in Germany.

---
Camp Photographs